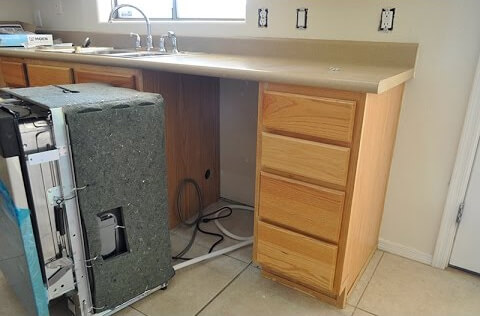 Home Appliance Installation Service in Broward County
Our technicians happily provide comprehensive appliance installation services on most foreign and domestic brands. We understand that the setup process can be complex, so we have developed a specialized skill set and approach to ensure your setup is completed safely, quickly, and efficiently. Furthermore, if you have any concerns or questions, you can always count on our customer support team to be available. 
At Tip Top Plumbing and Restoration, we take great pride in delivering exceptional quality services, and we are here to assist and solve all of your plumbing-related issues and appliance setup. Don't hesitate to contact us now and experience unequaled service quality!
Why Choose Tip Top Plumbing for Your Appliances Setup
Installing a washer appliance involves more than just plugging it in. From connecting water supply lines to ensuring proper drainage, each step must be carried out meticulously. Our company's highly trained installer bring years of experience and a specialized skill set to ensure a seamless process. We prioritize safety, efficiency, and, most importantly, your satisfaction.
We Install Various Types of Brands
We are adept at installing a variety of dishwashers, both foreign and domestic. Whether you have a high-end model or a more budget-friendly option, our installer has the expertise to handle it all.
Our Dishwasher Installation Process
Our approach to home appliance setup is meticulous and methodical. We start by conducting a preliminary kitchen assessment to understand the needs of your washer setup. This helps us prepare adequately and ensures we bring all necessary tools and equipment. Then, we proceed with the setup, ensuring all connections are secure and testing the unit to verify its functioning correctly.
Hassle-Free Installation Services
Our setup service is not just about getting the job done; it's about providing value. With straightforward pricing and no hidden charges, you know exactly what to expect before we start. Our efficient processes mean we're in and out without disrupting your day.
Unmatched Customer Support
Do you have a question before or after the service? Need guidance on using your newly installed appliance? Our customer support continues once the setup is complete. We're here to support you every step of the way, ensuring you have a smooth experience from start to finish.
We also offer Dryer/Washer Installation Services in Broward County
Our expertise extends beyond dishwashers setup. We recognize that your laundry appliances, like dryers and washers, play a crucial role in your daily life. We're pleased to offer comprehensive dryer and washer installation services in Pembroke Pines, Weston, Parkland and other places in Broward County, FL. Our skilled washer and dryer technicians are equipped to handle various brands and models, ensuring your laundry setup is done right the first time. From ensuring proper connections to checking for kitchen functionality, we take care of every detail. Whether upgrading your laundry room or needing a new setup, our team has the know-how to provide efficient, safe, and reliable service. Like our dishwasher setup, our commitment to quality shines through in every dryer setup we undertake.
Why should I hire a professional for appliance installation in Broward County?

Professional installation ensures your appliances are set up correctly, adhering to all safety standards, guaranteeing optimal functionality and longevity.
How long does the dishwasher installation process take?

While the exact duration can vary based on the appliances' model and setup intricacies, most installations are completed within a few hours.
What should I do to prepare for the installation?

Ensure the location you'd like your appliance to be clear and accessible. If you have any specific requirements, discuss them with us before the scheduled setup.