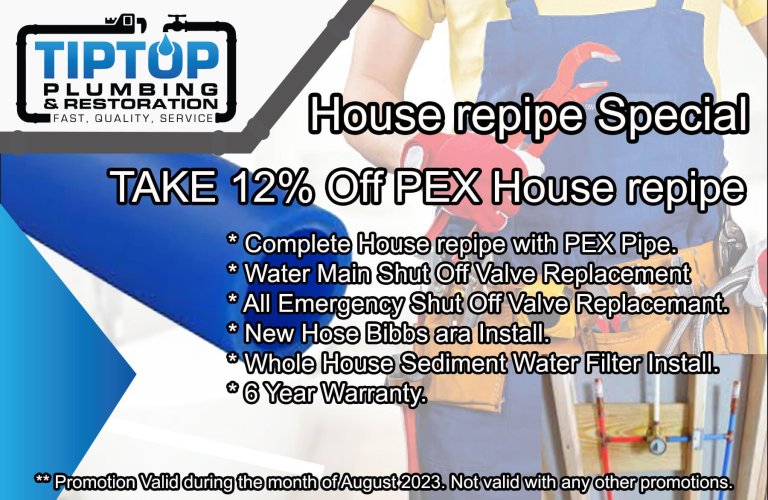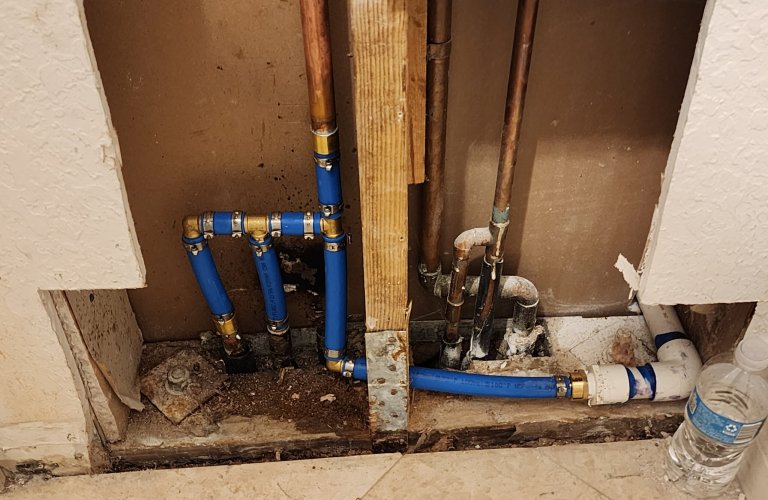 Supply Lines & Repipe Plumbing
Time to Replace Your Old Plumbing System?
When it comes to plumbing issues, homeowners may be familiar with the never-ending cycle of repairing leaking pipes. Fortunately, professional repiping offers a great solution for those tired of temporary fixes or those seeking to replace outdated pipes altogether.
At Tip Top Plumbing & Restoration, our experienced plumbers provide exceptional repiping services that are easy and cost-effective.
There are many clear advantages to repiping sooner rather than later. It can save homeowners money in the long run and offers peace of mind, knowing that their pipes are in excellent condition.
If you're unsure whether or not it's time to repipe your home, consider some common signs like noticing a change in water pressure or watercolor, unpleasant odors or taste, rising water bills, frequent leaks, or even the age of your pipes. Whatever the reason, our plumber can help determine what repiping options may be best for your home.
Repiping Services Near You
Tip Top Plumbing is the premier choice for repipe and repiping solutions in Weston, Pembroke Pines, Hollywood and surrounding Broward County areas. Over time, plumbing systems inevitably face wear and tear, resulting in decreased water pressure, potential water damage, and even costly utility bills. Fortunately, our highly skilled plumbers are just a call away, ready to assess and rejuvenate your home's plumbing infrastructure.
Understanding the importance of a well-functioning plumbing system, we employ the latest techniques and use only the highest quality materials to ensure your new pipes last for decades. Whether you're residing in an older home needing a complete repipe or noticed some signs of wear in your newer residence, our team is equipped to handle jobs of any magnitude.
Not only do we promise efficiency and durability in our repiping services, but also aim for minimal disruption to your daily routine. After all, your comfort and satisfaction remain our top priorities. So, when you think of repiping services near you, think of Tip Top Plumbing – your local plumbing guardian.
Kitchen Supply Line Repair
Our expert technicians specialize in kitchen supply line repair. The kitchen is the heart of your home, and a smoothly functioning supply line is its lifeline. From delivering water to the sink and dishwasher to powering your ice maker, the kitchen supply line plays a pivotal role in your daily routines. However, wear and tear or unexpected issues can disrupt this flow, leading to leaks, reduced water pressure, and potential water damage. With swift response times and precision repairs, we ensure your kitchen's water supply remains uninterrupted, allowing you to focus on creating culinary delights instead of dealing with plumbing woes.
Bathroom Supply Line Repair
Tip Top Plumbing and Restoration's bathroom supply line repair services bring back the ease and convenience you deserve. The bathroom is a sanctuary of comfort and relaxation, and its supply lines are the unsung heroes that make it all possible. From your shower and bathtub to your toilet and sink, every fixture relies on a functioning supply line to provide you with clean and convenient water access. When these lines falter due to leaks, corrosion, or blockages, your daily routines can quickly become frustrating. Our skilled plumbers identify issues swiftly and provide efficient repairs, ensuring that your bathroom remains a place of tranquility.
Whole House Supply Line Repair
Our whole house supply line repair services encompass comprehensive inspections, efficient repairs, and even replacements when necessary. The intricate network of supply lines within your home forms the backbone of your water distribution system. From the kitchen to the bathroom, laundry room to outdoor connections, these lines ensure water flows seamlessly wherever needed. However, as time passes, material degradation and shifting ground can lead to leaks and disruptions in your entire water supply. At Tip Top Plumbing and Restoration, we understand the importance of a reliable water supply throughout your home. Our experts ensure that your home plumbing system remains connected, allowing you to navigate your day with ease and comfort.
Complete House Repipe Plumbing Service with PEX Pipe
Deciding to embark on a repiping project is a significant decision for any homeowner. The plumbing system is, without a doubt, one of the most critical infrastructures in a residence, and ensuring its optimal function is crucial. Enter PEX pipe—a modern solution for home repiping projects that stands out due to its durability, flexibility, and resistance to scale and chlorine.
At Tip Top Plumbing, we offer comprehensive repiping services using PEX pipes. Recognizing the evolving demands of the modern home, we have made it our mission to stay at the forefront of repiping innovation. PEX pipe, in particular, offers numerous advantages, like reduced joints and an ability to withstand freezing temperatures, making it an excellent choice for complete house repiping.
Choosing the right plumbing company for your repiping project can mean the difference between years of peace of mind and recurring plumbing issues. We bring years of experience, skill, and dedication to each home repiping task, ensuring your plumbing system gets the upgrade it deserves. Trust in Tip Top Plumbing, where our commitment to excellence is reflected in every repiping service we provide.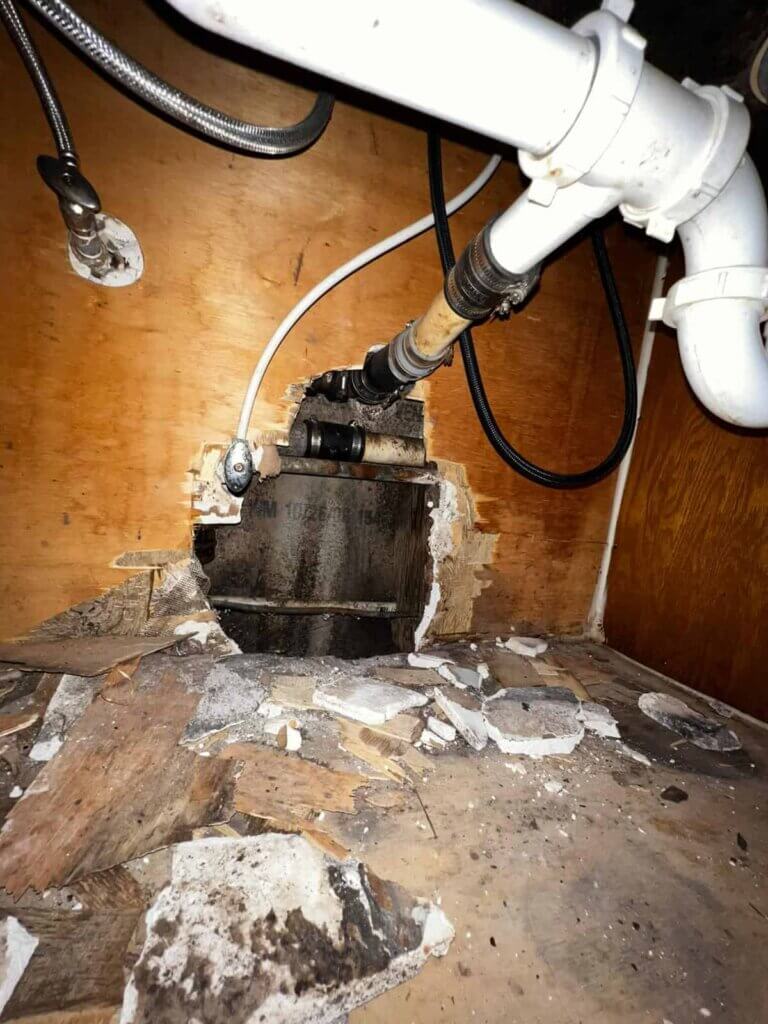 Your Home Repiping Service Specialists for Emergency Service
When repiping your home, you need a team that understands the intricacies and demands of the task. We proudly stand as your home repiping specialists. With a vast array of repipe plumbing services, we've successfully repiped countless homes, ensuring each household enjoys a plumbing system that's efficient, durable, and reliable. Every repiping job we undertake is executed precisely, adhering to the highest industry standards.
Our plumbers are passionate about offering the best in repipe services, making us the go-to choice for homeowners across the Broward County region. Whether dealing with old, corroded pipes or planning a complete overhaul of your plumbing system, our repipe plumbing expertise ensures your project is in the safest and most skilled hands.
Water Main Shut-Off Valve Replacement in Broward County
Your water main shut-off valve is the gatekeeper of your home's entire plumbing system. A functional valve ensures you have the power to control the flow of water, providing security during emergencies or when conducting repairs. However, these valves can wear out or malfunction, making prompt replacement crucial.
Entrusting this job to the right plumber is paramount. At Tip Top Plumbing, we pride ourselves on being more than a plumbing company in Broward County; we're repiping specialists. With a rich history of repiping work, we understand the intricate details of the plumbing system, including the pivotal role of the water main shut-off valve.
Every job we undertake is executed with precision and dedication. Replacing a water main shut-off valve may seem like a straightforward task, but ensuring it is done correctly to prevent future issues requires the expertise that our team offers. With our repiping specialists a call away, you can be confident that the work will be completed efficiently and effectively.
Emergency Shut-off Valve Replacement with your Repiping Plumbers
If your shut-off valve malfunctions at an inopportune time, it must be addressed immediately. Recognizing the urgency that such situations demand, Tip Top Plumbing offers an emergency service tailored specifically for shut-off valve replacements.
Emergencies wait for no one, and neither should you. Our emergency service ensures you have a skilled team at your doorstep, ready to handle the situation, no matter the hour. A compromised shut-off valve can rapidly escalate into more significant problems, and our rapid response time aims to mitigate this risk.
With Tip Top Plumbing's emergency service, you can rest easy knowing that professional help is just a call away, even in unexpected circumstances. Don't let a malfunctioning shut-off valve disrupt your peace of mind; lean on our expertise and prompt service for a hassle-free solution.
Contact Your Local Repipe Plumbers for Repipe Plumbing Services
Facing issues with your plumbing system in Broward County? Don't let deteriorating pipes disrupt your daily life. As your local repipe specialists, we are equipped and ready to handle all your repiping needs. Whether it's a complete house repipe with PEX pipe, a water main shut-off valve replacement, or an emergency shut-off valve service, we've got you covered.
Experience the seamless, professional service that only a dedicated plumbing company like ours can provide. Take action now – ensure the longevity and efficiency of your home's plumbing system. Contact your Broward County repipe plumbers at Tip Top Plumbing today!
Service: Plumbing pipe repair Positive: Professionalism, Punctuality, Responsiveness
How often should I consider repiping my home in Broward County, FL?

The frequency depends on the materials used in your plumbing and the water quality in your area. However, most homes require repiping every 20-50 years.
What materials do you use for repiping?

At Tip Top Plumbing, we use various durable materials suitable for your needs, including copper, PEX, and PVC.
How long does the repiping process typically take in Broward County?

The duration of a repiping project can vary based on the property's size and the plumbing system's complexity. However, most residential repiping projects are completed within a few days.