Tank & Tankless Water Heater Installation in Broward County FL
Looking for a hassle-free water heater installation? Look no further! Our same-day water heater installation service takes care of everything for you to sit back, relax, and enjoy your new water heater. We take care of every aspect of your installation, including delivery and haulaway, obtaining all necessary permits, and more. And that's not all! We also offer up to a 3-year labor warranty to give you peace of mind and ensure you're fully satisfied with our services. Our team is dedicated to making your water heater installation experience as easy and stress-free as possible. So, why wait? Contact us today, and let us care for your water heater installation needs in Broward County Florida!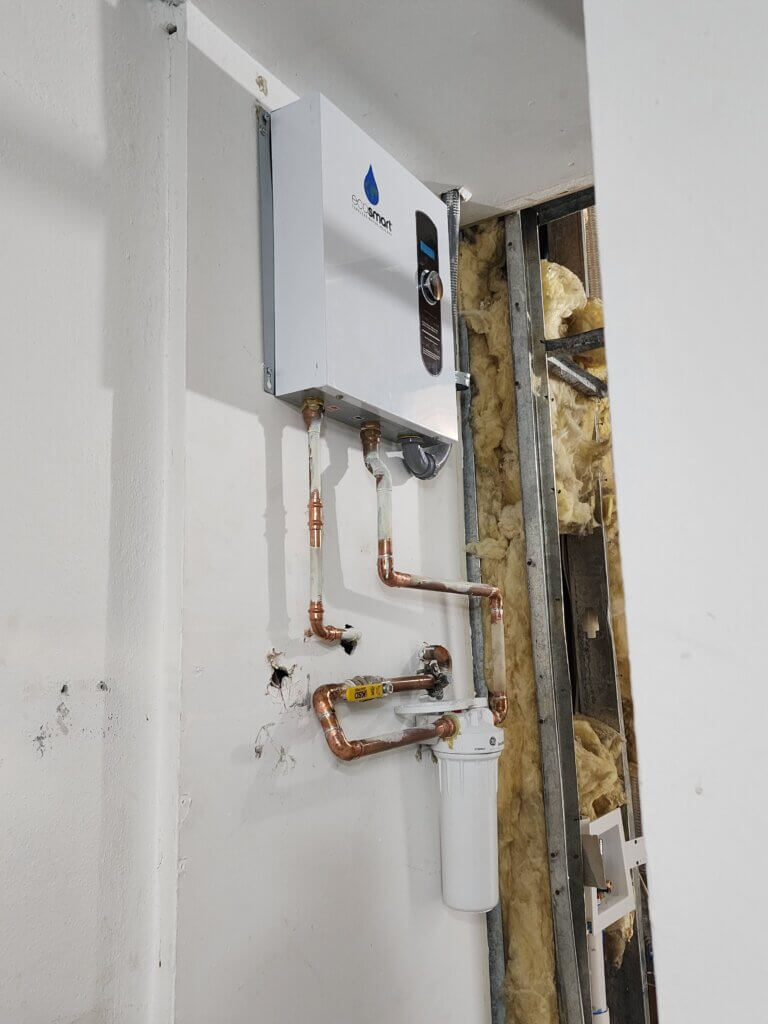 Types of Water Heaters We Install in Broward County FL
Experience consistent hot water and potentially lower energy bills with gas water heaters. Our team can efficiently install and set up your gas water heater, ensuring safety and peak performance.
Electric water heaters are popular for their simplicity and efficiency. Whether you're upgrading or installing a new unit, our team is adept at ensuring a flawless setup.
Tankless Water Heater Installation Service
Enjoy the benefits of on-demand hot water with modern tankless water heaters. They offer potential energy savings, and their compact design also saves space. Our team can guide you on the best fit for your needs and ensure a perfect installation in your Weston home.
Why Choose Our Water Heater Installation
Our commitment goes beyond just setting up a new hot water heater. With years in the business, we've refined our services to offer a holistic experience, ensuring safety, durability, and performance. Our qualified professionals ensure your installation meets all safety regulations, provides optimal performance, and extends the life of your appliance.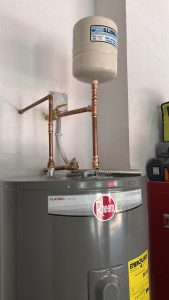 Same-Day Hot Water Heater Installations in Broward County FL
Imagine waking up to a malfunctioning hot water heater in the morning and having a new, efficient unit installed and running by evening – all without lifting a finger. Our team prioritizes quick responses without compromising on the quality or safety of the installation. With our extensive inventory of top-brand hot water heaters and a fleet of skilled technicians ready to dispatch, we ensure you won't have to endure a single night without hot water.
Beyond mere convenience, our same-day installation service is a testament to our commitment to customer satisfaction. We understand the discomfort and disruption a non-functional hot water heater can cause and aim to mitigate that as swiftly as possible. From the initial consultation to securing any necessary permits, delivering the unit, and ensuring its optimal performance, our seamless process is designed to bring warmth and comfort back to your home in record time.
Benefits of Professional Plumbing System Services
While DIY may seem tempting, a professionally installed water heater ensures:
Safety:

Adherence to all safety guidelines and codes.

Efficiency:

Optimal performance leads to energy and cost savings.

Longevity:

Proper installation can enhance the lifespan of the unit.

Warranty Protection

: Many manufacturers require professional installation to maintain the warranty.
Comprehensive Water Heater Replacement Services
When it comes to maintaining a comfortable and efficient home, ensuring your water heater is in top condition is crucial. Over time, even the best tank water heater can show signs of wear, leading to inefficiencies and increasing energy bills. Alternatively, consider switching to tankless water heaters for their energy-saving benefits and endless hot water supply. In that case, our dedicated plumbers are here to guide you through the process. 
Tip Top Plumbing & Restoration offers comprehensive water heater services in Broward County FL, covering everything from routine maintenance checks to complete replacements. With a deep understanding of the intricacies of different water heaters, our plumbers are trained to ensure a seamless transition when you're ready for an upgrade. Entrust your plumbing needs with us, and experience the unmatched efficiency and dedication that has made us a leader in water heater services.
Tip Top Plumbing Offers Water Heater Repair and Other Plumbing Services
We understand the importance of a functional hot water heater in every household in Hollywood. There's nothing more inconvenient than stepping into a shower only to be greeted with cold water due to a malfunctioning heater. That's where our skilled plumber team comes into play. Specializing in water heater repair and water heater replacement, we ensure your system delivers the right temperature consistently. 
Beyond hot water heaters, our comprehensive plumbing services cater to various needs. Whether it's routine maintenance, emergency repairs, or replacing an old unit, we're the experts you can trust. With Tip Top Plumbing, you'll never have to worry about inconsistent water temperature or surprise breakdowns.
Service: Water heater installation Positive: Professionalism, Punctuality, Quality, Responsiveness, Value
Contact Your Local Plumbers for Water Heater Installations & Repairs
Don't leave your comfort to chance—choose the best in the business for your water heater installations. Whether installing a new tank or upgrading to a more energy-efficient tankless system, our local plumbers have covered you. With our expert water heater services, you can ensure that you'll have reliable hot water when you need it most. Contact us today to schedule your hassle-free installation in Broward County Florida.
How long does a typical water heater installation take?

While every installation can vary, most installations can be completed within a few hours. The exact time depends on the complexity of the setup and the type of water heater being installed.
Is it necessary to have a professional install my water heater?

Yes, having a professional ensures the installation meets safety standards, is energy-efficient, and prolongs the appliance's lifespan.
Do you handle the removal and disposal of old water heaters?

Yes, our comprehensive installation service includes a haulaway of your old water heater to make the process as seamless as possible.
What is the difference between tankless and traditional water heaters?

Traditional water heaters store and preheat a certain amount of water in a tank, whereas tankless water heaters heat water on demand, offering potential energy savings. A tank is an essential component of a water heater system, whether a traditional storage tank or a tankless option. The tank serves as the reservoir for storing and heating the water. In traditional tank-style water heaters, the tank stores gallons of water, ensuring a constant hot water supply. On the other hand, tankless water heaters heat water on demand without needing a storage tank, resulting in energy savings. The size and type of tank chosen for a water heater system can greatly impact its performance, energy efficiency, and overall cost.
Do I need any special permits for water heater installation and repairs?

In many areas, permits are required for water heater installations. Don't worry; our service includes obtaining all necessary permits for you.